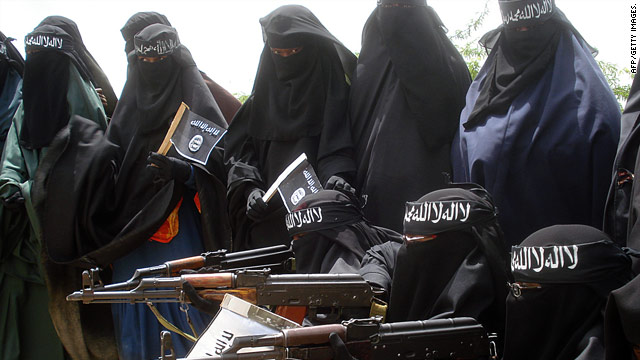 Al Shabaab - cnn.com
Al Qaeda remains a significant and growing threat to global security.
Somali-based
Al Shabaab's attack
in Kampala, Uganda, following the World Cup final earlier this month is credited by terrorist experts as a
play for official membership
in the Al Qaeda franchise club.
Uganda was not a random target. Its peacekeepers protect the weak Somali government which Al Shabaab hopes to sack.
AQIM (Al Qaeda in the Islamic Maghreb-Sahel) operates in Sub-Saharan Africa and poses a
direct danger
to western Europe. It likes to capture and kill relief workers trying to improve the lives of those trapped in the desolate region.
In Yemen, the UK ambassador and his convoy narrowly survived a
suicide bomb attack
last April credited to Al Qaeda in the Arabian Peninsula (AQAP).
AQAP is expanding its reach and scale of operations. In fact it just released its first
English-language Inspire magazine
for entrepreneurial suicide bombers in order to connect with a worldwide recruitment pool.
Moreover, AQAP is
directly tied
to the so-called Christmas Day bomber in the United States last year.
While the main Al Qaeda organization is pressured in Iraq, Afghanistan, and Pakistan, start ups and franchises proliferate where lawlessness prevails like in the Sahel, Somalia, and Yemen.
It is clear the West's efforts to control the tide of terror wrought by Islamic fascism is failing.
While the real war is inside Islam, the West is a convenient target both in the minds and in the deeds of militant Islamics as an expression of their fundamentalist rage against the modern world.
***
If you need research from open sources in Spanish, French, or Portuguese and presented in a stylish English language report or a translation of documents in said languages to English, please contact Professor Winn at by sending an email to
mrenglish101@gmail.com
for a prompt evaluation.